What I call "photo-based paintings" are portraits, still life paintings and other paintings where the main focus is a real-world person or object, for instance your husband or the beautiful landscape near your village. If you can visit me in my studio or invite me to the above-mentioned beautiful place, I'd love to paint from life, but photo-based paintings are a great substitute when I can't travel all the way across the world to your home in Australia to paint your kids and dog!
If at this point you're thinking "wait, I was interested in a portrait, but I wanted you to paint my D&D cleric, not real life me!", please visit the "commission an illustration" section. From now on, I'm going to talk about portraits of people more specifically, but this also applies to animals and objects.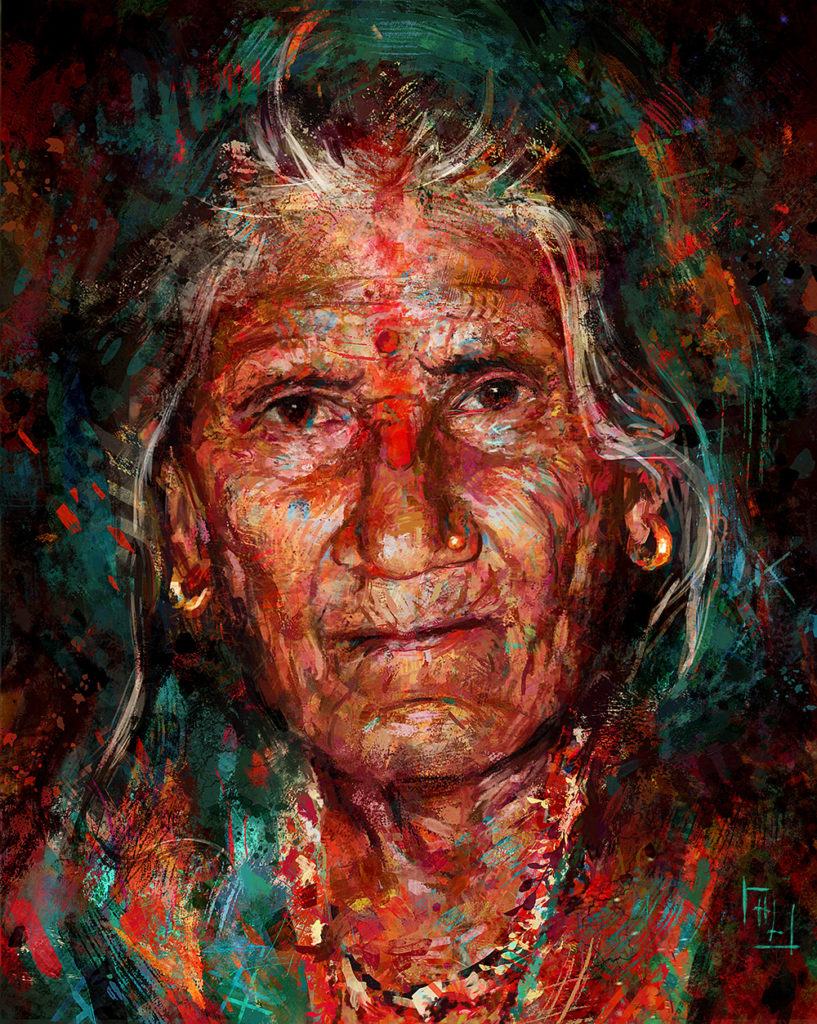 The most important thing about photo-based paintings is that a good painting almost always references a good photo. When I paint a portrait like the ones from this portfolio, I rely on the reference photo to provide me with the value structure of the picture (the lights and darks that define the person's face), the small details of the model's features, sometimes the colour palette too…
As a painter, what I bring to the portrait is my brushwork (how and where I apply visible brushstrokes), my work on edges (making some edges seem really sharp, while others become so blurry you don't see them at all), my tweaks to the value and colour structure of the image, the loose abstraction I add in some parts of the image… But, really, a good photo does half the job.
So, what kind of photo is considered good for this purpose? First and most importantly, they should be photos you like. A picture of your mom smiling is much better than her ID card poker face (unless you have a great story associated with that poker face!). They should also be large enough, and not blurry — the face should be at least 1000 pixels high, which allows me to see the fine details. The picture shouldn't have any saturated white or black areas. If you can, it's also great if it has a harmonious colour palette, different light sources…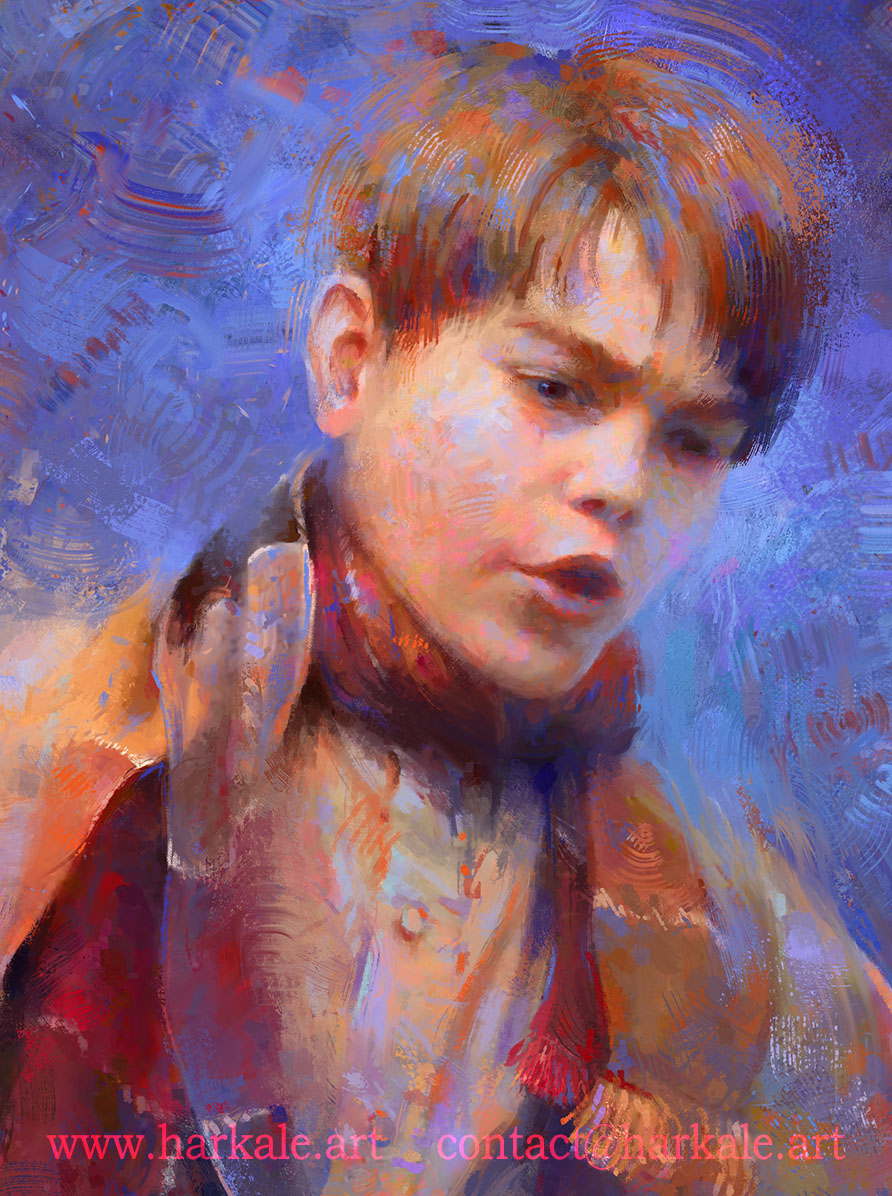 And, last but not least, the photos shouldn't look "flat": the model's face should look like a 3D object. On the two paintings above, you can get a good idea of the 3D shape of the models' faces, and that's something you should make sure is also visible in your photo. Basically, if your model has a pale skin tone, don't take a picture of them in grey weather using a phone camera, and don't shoot photos at night using your camera flash.
Now that you have your good-looking photo, half of the work is done. It's now my turn to start working. After you send me your photo and your ideas of what the finished portrait should look like (digital or traditional medium, stylistic reference from my own portfolio, additional references for other objects or people you'd like to see included in the painting,…), I'll give you my price as well as an estimated time to completion. To give you a better idea, digital portraits start around 300€, but this base price will increase for half-body portraits, for additional people or objects in the picture, if you want a more detailed piece or intend to print it in a large format, and so on. Charcoal is about the same price as digital, and oils or acrylics are more expensive.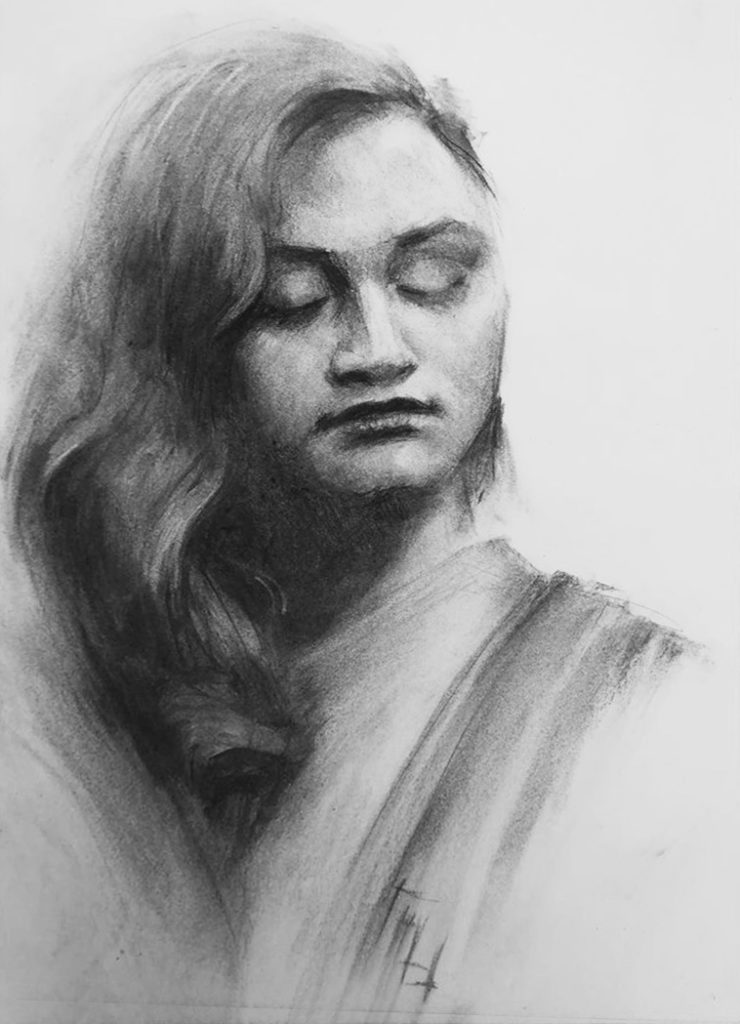 We then sign a contract, and you send me the first half of the total payment. I then paint a rough digital sketch on your photo, showing the different things I intend to change (background colour, lightening some parts of the picture, modifying the colour palette,…). If you agree with this sketch, I move on to the painting process itself, but you can also ask me to make a few changes to the sketch first if you're unhappy with some of my choices.
Once the sketch is validated, I start working on the painting itself. And once I am happy with the result, I send you a low-resolution file (or a photo if the painting is created in traditional media). Again, you can ask me to make some small changes if you want to, after which the painting is done! Once you send me the second half of payment, I send you the high-resolution files or the physical painting.
I hope that answered your questions about my painting process for photo-based paintings! But if you still have some questions or if I wasn't very clear, don't hesitate to send me an e-mail at .