In the following article, I'll describe my usual work process for illustration commissions. But if you're already familiar with commissioning illustrators (or me in particular), don't hesitate to directly send me an e-mail at .
What I (very arbitrarily) call an illustration is anything that isn't a portrait of a person from the real world or an artistic recreation of a reference picture sent by you. So if you're interested in a cover for your book, a series of illustrations for your game, a portrait of your RPG character, etc., you're in the right place, but if you are looking for a portrait of your mother, a painting of your house, your cat or your coffee table, please visit the "photo-based paintings" section first!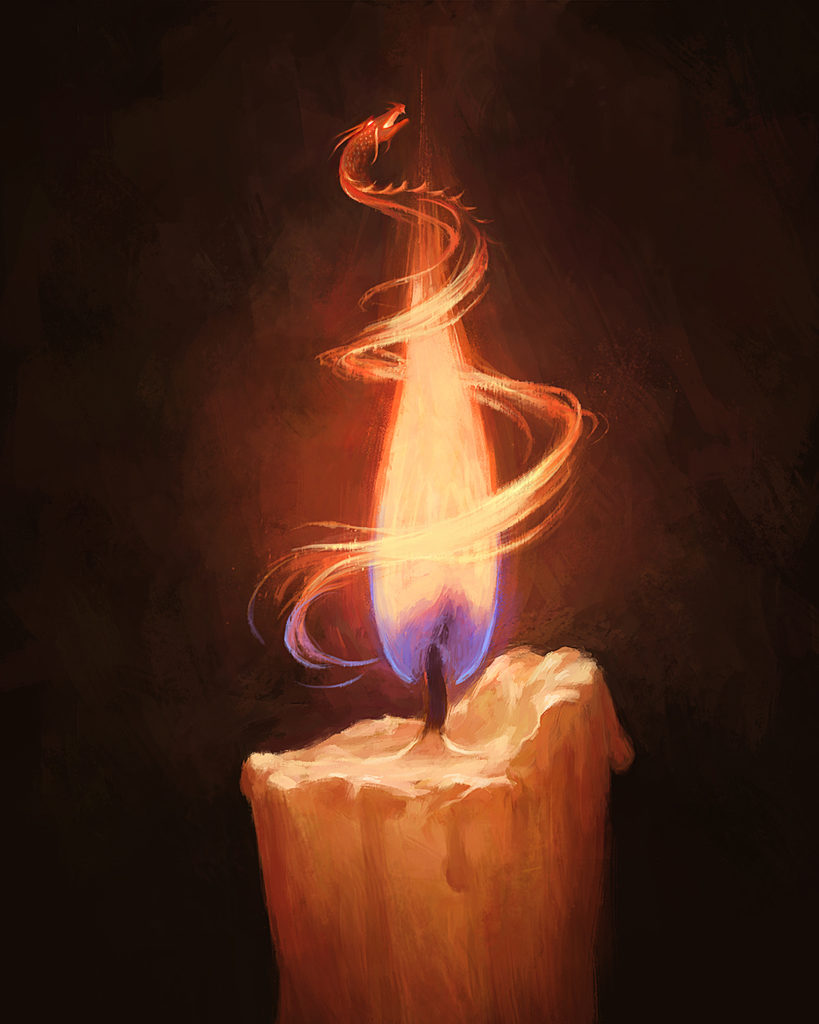 Initial e-mail exchanges
An illustration commission usually goes as follows: first, we discuss the purpose and subject of the commission. Is it a series of illustrations for a YA novel, a cover for your death metal band, a colourful painting you'd like to hang in your bedroom…? Do you have a very specific subject and composition in mind, or is it open to interpretation? Do you have certain restrictions, like a maximum budget, a preferred format or a deadline? And is there a specific painting (or paintings) from my portfolio that you would like me to use as stylistic reference? For instance, you may be interested in the painterly style of the picture above, or the swirls of my website banner,…
Ideally, telling me about both "hard" and "soft" guidelines and restrictions would be great. For instance, assuming you're a self-published writer looking for a fairy tale book cover, you may have some hard guidelines: the illustration should be dreamlike and melancholic, reflecting the mood of your book, and should have an unusual square format. You may also have some softer guidelines: old trees, ravens and golden keys are important to the story, so you'd like me to include one or more of these elements when designing the picture, but it's not absolutely necessary. You would also prefer if I read the book before painting its cover, but if it's not possible you could also send me descriptions and the most important chapters. Same for your restrictions: you may have a hard deadline 8 months from now due to the publishing process, but maybe you'd ideally like to have the finished picture in 4 months to use it for advertisement. Maybe you're hoping to pay around 1000 – 2000 €, with a hard maximum at 2500 €. And so on…
Once I have a good idea of what you're looking for, I'll be able to tell you if I believe I'm a good fit for your project (if I'm not, I'll do my best to direct you to other artists), and I will give you an estimate of the time I'll need to complete your project as well as my price. Depending on the complexity of an illustration my price can vary between a few hundred and a few thousand euros. If you intend to use it commercially, the commercial rights will correspond to an additional fee.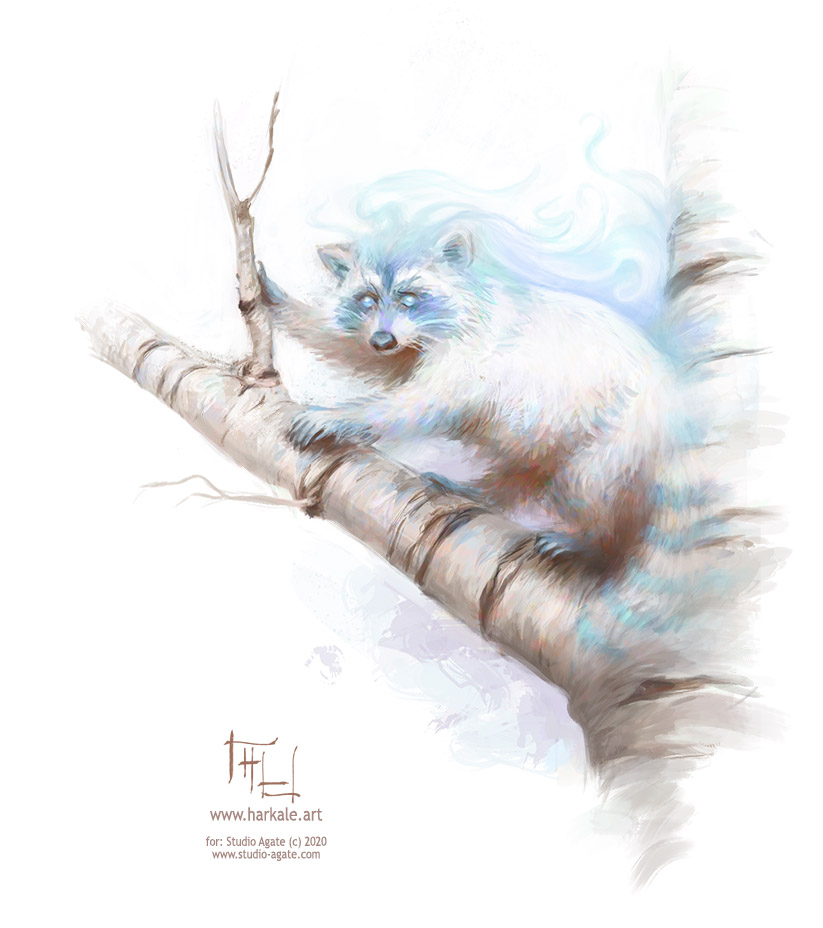 Sketch phase
When we both agree on the project, and after you send me all the relevant references (photos, text,…), we'll both sign a contract, and you'll pay me half of the illustration price. I'll then begin to work on the initial sketches, creating lots of variations on the overall composition, colours, and so on. At the end of this sketching phase, I'll send you two or more sketches, exploring different compositions ideas that I think would look great once fully painted.
To give you an example of what these sketches would look like, the three pictures below are the sketches I sent to a client who was looking for a starry, dreamlike but realistic full-body portrait inspired by his Final Fantasy XIV character:
As you can see, the values, colours and compositions are already here, but all the details (including the character's clothes and face, the details of the background,…) are missing. I also often include a short text with each sketch, to clarify some elements.
Note about fan-art
I'm taking this opportunity to go on a tangent: if I'm always happy to paint your game characters (being a huge geek myself), I'm not comfortable duplicating the design work of an other artist or a person's likeness without their consent. For instance, I'd be glad to paint your World of Warcraft paladin, but I won't paint him wearing his T2 judgement armour set (despite how great that set looks) — however, his clothes could be inspired by the T2 armour set. Or I'd love to paint your version of Hermione Granger, as long as she doesn't look too much like a young Emma Watson. I'm aware this choice is very subjective, though, so don't hesitate to discuss this with me if you're unsure! But let's go back to the painting process.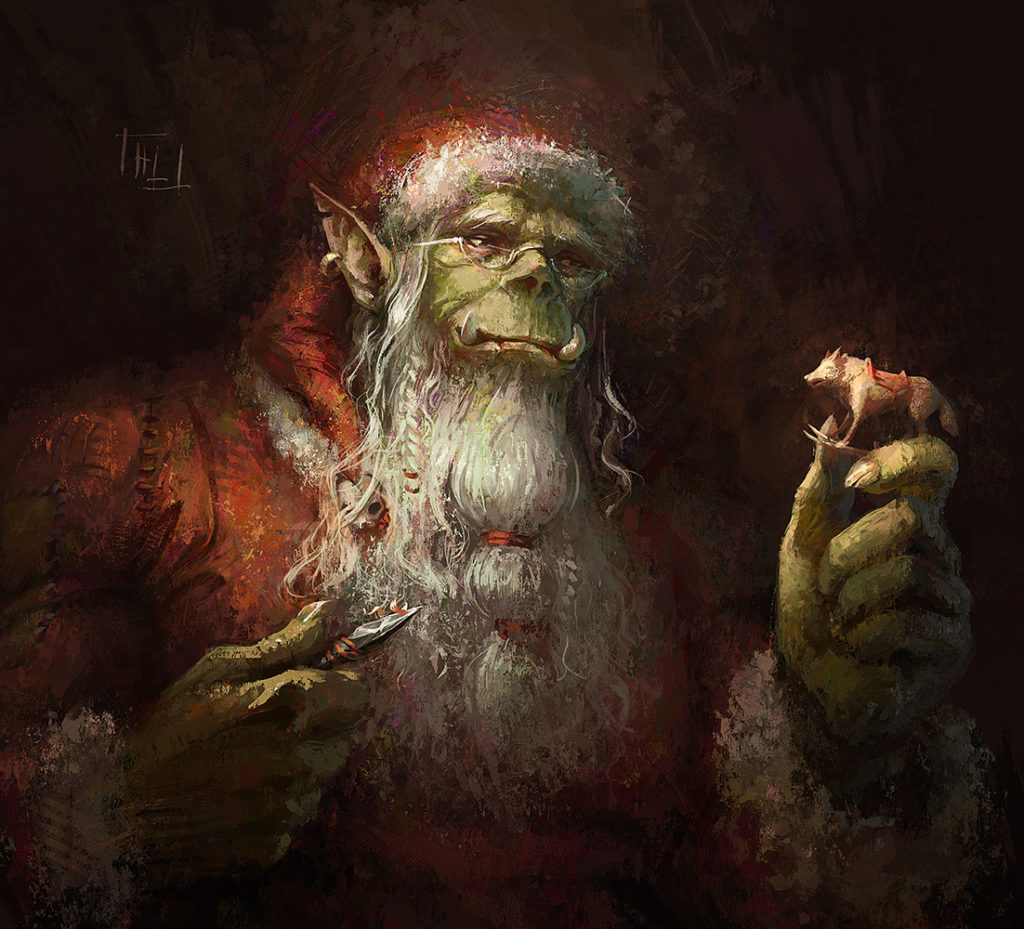 Once you receive the sketches, you have different choices: you can either choose one and ask me to refine it further, ask me to make changes to a sketch (including mixing elements from different sketches: colour palette from sketch n°1, composition of the sketch n°2, some details of the other sketches,…), or create a new sketch from scratch based on more specific instructions if you aren't happy with any of the sketches. You can usually ask me to make up to two such rounds of major changes (but it depends on the complexity and price of your commission: a 500€ illustration might include less back-and-forth between us, while a big 5000€ piece may require a lot more fine-tuning). After that point, in the unlikely event that you're still unhappy with the result, we can either renegotiate the price to allow for more changes or abort the commission. Neither of these cases ever happened to me (and most of my private clients are usually happy with zero or one round of changes), but still, this possibility will be mentioned in the contract.
Going back to my example, in this case, the client requested that I slightly modify the first sketch by using a colour palette closer to that of sketch n°2, and suggested that I blend the character's dress in the starry background during the refining phase (which was a great idea!). I sent him the following sketch, and he validated it.
Painting phase
Once the sketch is validated, I start working on the painting itself, either digitally or traditionally. During this time, I may contact you at crucial moments of the painting process for your opinion or further references, but I usually wait until the painting is almost done to send you a first low-resolution version of your illustration.
Then, you're free to ask me to make some smaller changes: at this point, the overall composition is settled, but you can ask me to change the position of an arm or a character's expression, add some leaves on this tree or make that part of the painting slightly darker, detail that sword further, and so on. Like during the sketch phase, there are up to two successive rounds of such changes to polish the painting and make sure it's the best possible version of itself! Again, the actual number of changes can vary with the complexity of your painting.
In the case of this character portrait, the first picture I sent my client was this one:
The illustration wasn't completely finished: I was still planning on changing a few details, but was interested in his opinion about the painting. He asked me to make some changes to the character's face, to make it look more like her in-game model, and sent me some reference pictures. Here is the final illustration:
Once you're happy with the result, you send me the second half of payment, after which I send you the high-resolution files (in the case of a digital illustration) or the physical painting!
I hope reading this guide helped you gain a better understanding of my work process for private commissions! If you still have any doubts or questions, though, don't hesitate to send me an e-mail at .